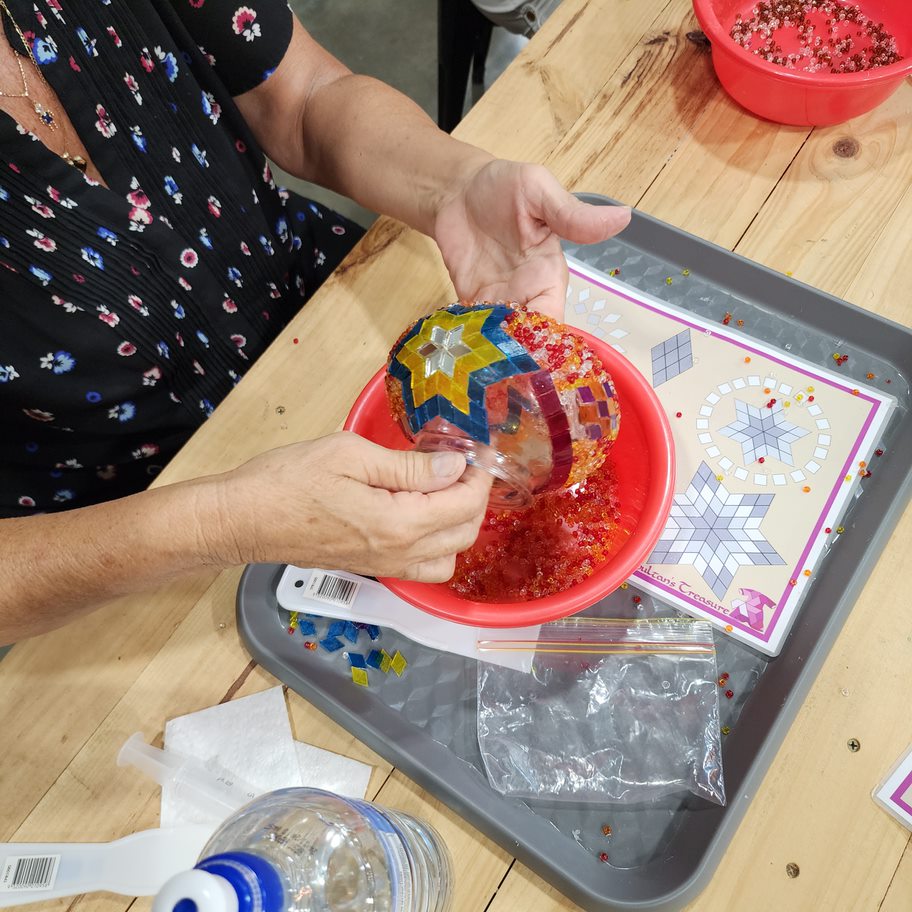 Guide to Learn How To Build Our Lamps
Making a Mosaic Lamp Glass "Blue Eren"
Make Your Own Turkish Mosaic Lamp - "Emre Green"
Sultan's Treasure Mosaic Lamp Grouting
How to Grout Your Lamp
Mixing Grout and Applying for your Mosaic Glass Creation
Grouting is not scary! Don't worry you got this! It will make your lamp last longer and shine bright like a diamond!

We have a video below so please watch! Or if its playing up please paste this into your browser

Click Here for the Video

Mixing the Grout Step 1
If you have ever iced a cake you can grout your lamp! If you have never iced a cake its time to go to coles and get yourself a packet cake and a cuppa.
But as you know just like icing consistency is key! Don't add too much water it will be runny and sliding everywhere!
Add the grout we have given you into an old container, a small icecream container or 500ml yogurt tub is great
Slowly add drips of water at a time.
You are looking for the consistency between thick pancake batter and toothpaste. Mix until smooth! No lumps or powder!
 No further water should be added after the original mixing.

APPLY THE GROUT STEP 2
Don the provided gloves and work your way slowly around the
glass methodically adding grout gently to the surface. Do not rub too hard
otherwise the beads might dislodge. Do not be too concerned if one or two of
the beads fall out, just gently fill the holes. The whole glass will be covered
in grout including the surfaces of the glass and beads.
The glass should be covered and all cracks and holes full
but not excessively weighed down with excess grout.
Once Grout has been spread over the surface leave for 3 to 5
min to firm.
CLEANING THE SURFACE STEP 3
Prepare one bucket or icecream container of water for
rinsing. 
After the grout has been let sit for a maximum of 5 min; its
time to clean the surface.
Wet the sponge so that it is not heavy with water but very
damp.
Sponge the excess grout off the surface leaving the tops of
the mosaic and beads exposed.
Use the bucket of water to clean your sponge and return to
cleaning the surface of the mosaic. Keep going wetting the sponge – wiping –
cleaning the sponge until the grout is in between the beads and cut glass but exposing
the shiny tops of beads and mosaic cut glass!
DRYING TIME Depending on the weather it is best to leave for
a day or 2.
Once it is all dry and clean you can then attach it to your
lamp base or if a tealight use it to make your table glow!